To help the compliance profession navigate these difficult times SCCE & HCCA has developed a variety of complimentary COVID-19 resources to stay informed, manage risk, and maintain the effectiveness of your program.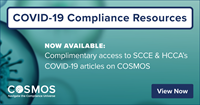 New articles added daily!  CMS updates, Telehealth/Telemedicine Security checklists, Supply Chain reports, and more!   COSMOS, SCCE & HCCA's online publishing platform for complimentary access to a growing collection of COVID-19 articles from our exclusive member magazines and subscription-based newsletters. Visit COSMOS

HCCA's open online compliance & ethics community now has a dedicated COVID-19 discussion group. Ask questions and share your expertise. Log into your HCCAnet account or create a free account.  Visit HCCAnet

Find a fast expanding range of articles and podcasts related to COVID-19 compliance considerations on SCCE & HCCA's The Compliance & Ethics Blog and Compliance Perspective Podcasts.  Visit the Blog

View the web conference recording from March 26, 2019 How to Prepare for and Respond to the impact of COVID-19.
Free to HCCA members. Learn More
Government Resources

We continue to encourage the use of state and local government sites to stay informed.
Centers for Disease Control and Prevention
Centers for Medicare & Medicaid Services
National Conference of State Legislatures
HHS Office of Inspector General
U.S. Department of Health & Human Services
U.S. Office of Personnel Management (OPM)