Report on Medicare Compliance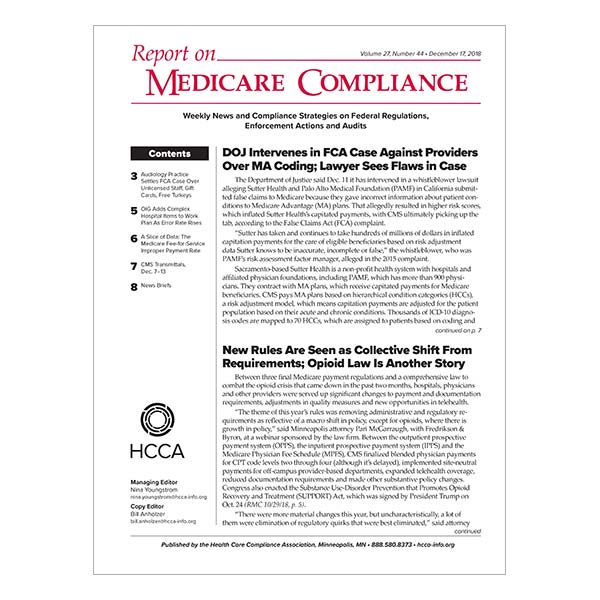 Report on Medicare Compliance (RMC) is the most timely and reliable source of news on medical necessity, inpatient and outpatient billing, Stark and anti-kickback compliance, documentation, claim denials and appeals, Medicare Advantage and more.
When you subscribe, you will stay up to date on audits, regulations and enforcement in the fast-changing world of Medicare and get expert insights and guidance on what these developments mean for your organization.
View the below sample articles on HCCA's compliance portal, COSMOS:
As a subscriber to RMC, you'll receive:
45 issues annually, written by the most experienced compliance reporter in health care, delivered electronically and by First-Class Mail

20 non-live continuing education units (CEUs) per year toward certification by the Compliance Certification Board (CCB)®

Access to a subscriber-only website with a searchable library of past issues.

A discounted subscription rate (if you are also an HCCA member).
Annual subscription is $665 for members; $765 for non-members.
Already Subscribed? View Current Issue Here
You will need to sign on again to view the current issue.

Don't want to subscribe online? PDF form here
Please contact Scott Moe at scott.moe@hcca-info.org with any questions.
Meet Report on Medicare Compliance's Editor
Nina Youngstrom, editor of Report on Medicare Compliance, discusses her background as a journalist and her approach to writing the national newsletter. RMC is a weekly publication that provides valuable guidance on where Medicare auditors are going next, how the False Claims Act and Stark Law are being enforced, and what new regulations mean to your organization. Commentary from field experts brings topics to life and gives insight into compliance best practices.